Increasing the conversion rate on a yacht related website is not a one size-fits-all job. The truth to be told is that the yachting industry is still strongly based on relationship building. Not many people really buy a boat online (over 20 feet) and even those companies who are very experienced in selling yacht charters like BoatBooking.com don't believe that yacht charter holidays can be sold online with no human-to-human interaction on a 1-1 basis just yet.
Therefore,  it is crucial to increase and optimise conversion rate. Conversion rate is the measure of how many website visitors become leads and then again how many leads become customers. It is a numbers game but also a game based on relationship building.
Fortunately, technology is much better and more affordable than it was even only 10 years ago. There are plenty of tools that are aimed at improving and increasing the interaction between website visitors and the business behind the website.
One tool which has given us a lot of satisfaction with a number of clients including the one mentioned previously is the live chat tool .
The reason is fairly simple. It allows people to talk to the business behind the website they are visiting and ask them all sorts of questions. While it sometimes can be a huge waste of time on high traffic websites it is incredibly useful for websites who do not have traffic numbers in the tens of thousand every day. Furthermore, every conversation (chat) can be useful to understand how the business can improve its website and provide information (maybe as FAQs) that are get repeatedly asked in a number of chats.
On the other hand if you are an experienced yacht broker for example you will have immediately a sense for who you are speaking to (chatting) by the question one asks.
In one case of one clients the mere customisation of the live chat we did for them brought their conversion rate up by 4% in less than 30 days. The reason behind it was that real prospective customers who wanted to charter yachts could immediately understand from the chats that they were talking to real experienced brokers instead of a contact center in a developing country, that instilled the much needed confidence the HNWI web visitor requires to leave their contact info and follow-up with a the broker.
There are many tools we have tried and tested and a lot of them implied the operator (chat operator that is) to sit at his desktop/laptop with the backend of the website open waiting for chats to happen. This practice is of course not sustainable for the size of the teams of many companies in the yachting industry so we kept on searching for a better tool. In the end the one which we decided it is the best value for money and the most user-friendly for nontechnical users is from a company called LiveChat Inc.
They offer several features for advanced customisation of every greeting in every page and also based on the language of the user (yes the tools 'knows it' before hand based on where the web visitor is typing from).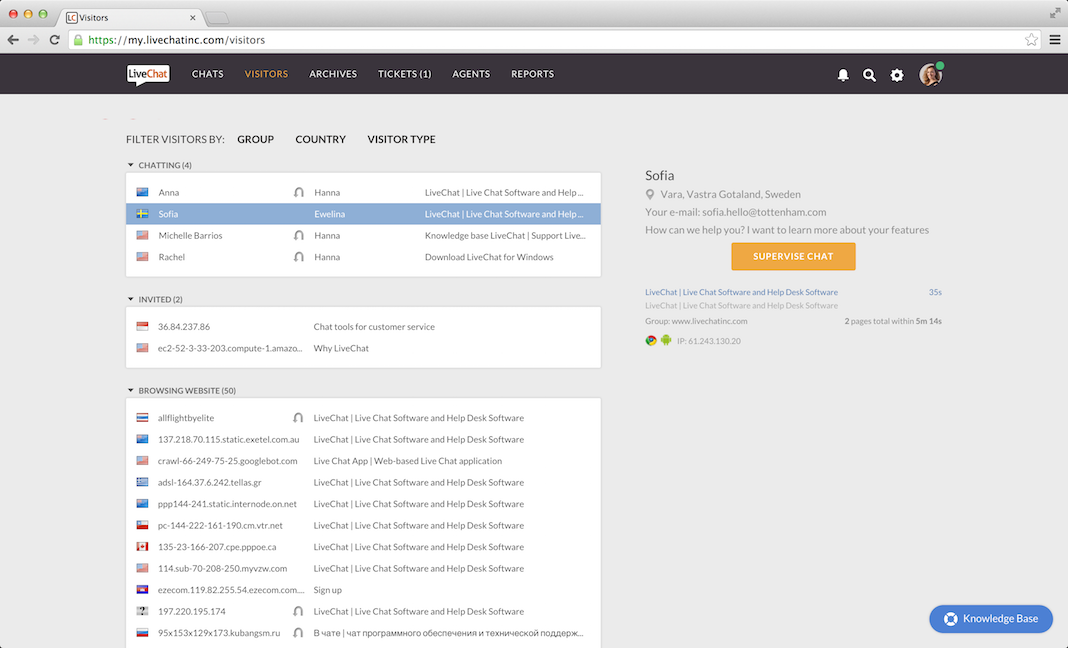 Lastly, the tool has a wonderfully designed mobile app which means that you can manage your chats just like you would manage text or WhatsApp conversations from your phone. It doesn't hurt that they offer a free trial period so you can test it and decide whether it is for you or not.
The integration with your website is quite easy if your website is in WordPress, there is a dedicated plug-in for it. However if you need help contact our digital team 
If you want to try to implement the Livechat on your business website go ahead and use this link  and let us know what are your first impressions in the comments if you like.
We liked the results we were able to achieve with our clients through the LiveChat tool that we decided to become their partner and help other companies achieve those results too

https://rodriquezconsulting.com/wp-content/uploads/2017/07/Conversion-Rate-Optimisation.gif
377
670
Rodriquez Consulting
https://rodriquezconsulting.com/wp-content/uploads/2014/09/Rodriquez-Consulting-logo11-300x94.gif
Rodriquez Consulting
2017-07-06 10:03:11
2018-04-26 08:35:03
Increasing Conversion Rate From web visitor to prospective customer - relationship building in yachting websites